Dear Visitors!
Welcome to Worlds only James Bond 007 Museum exhibition  in Nybro Sweden. 38 million virtual visitors and 235 counties /month.
The James Bond Exhibition 007 Museum, Nybro Sweden over 1000 square meter.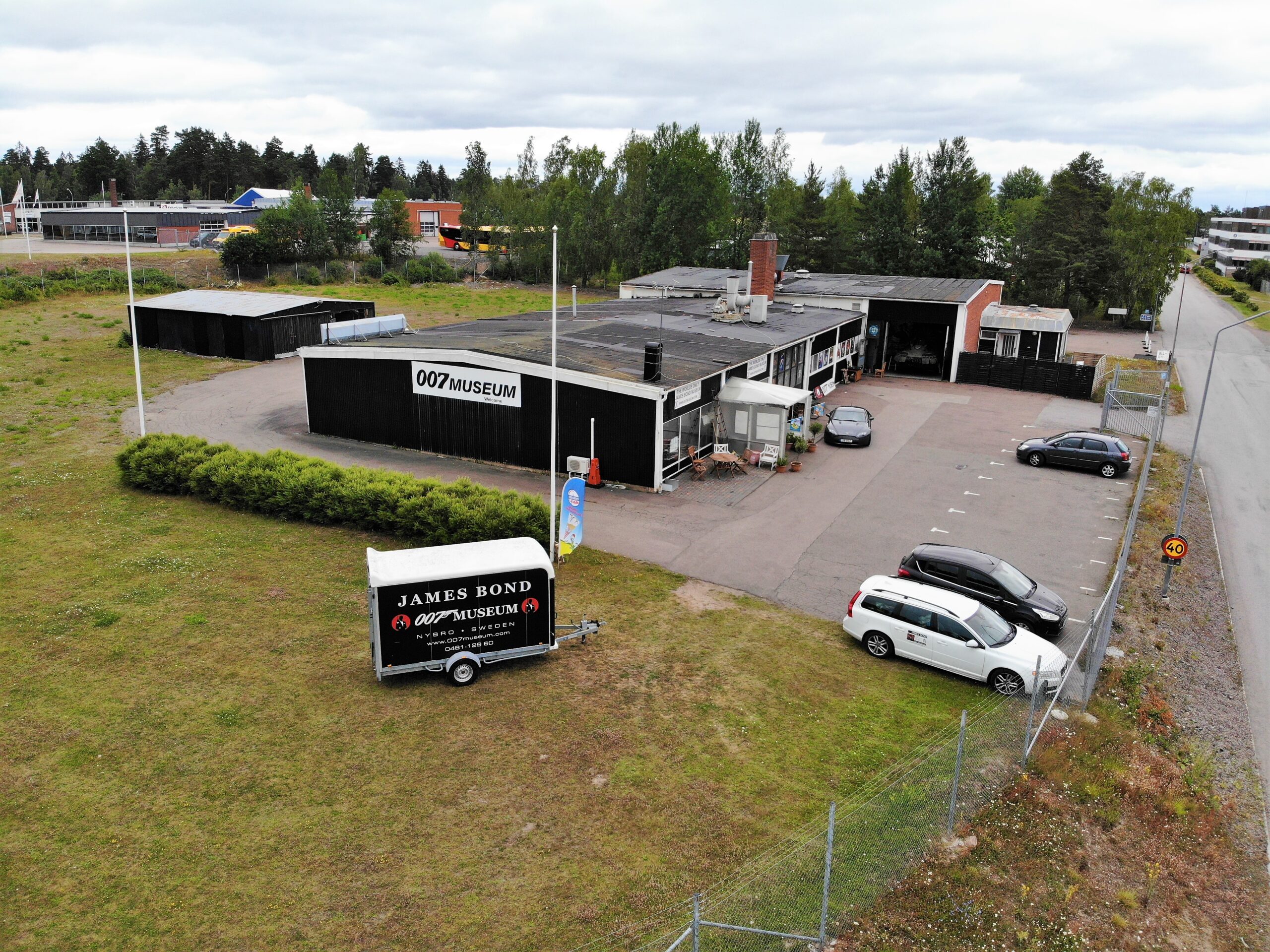 SVERIGES RADIO Radio Sweden – visit to James Bond – in Nybro. Swedish news in English – After 22.48
Barbieutställning

Publicerad 28 februari 2019 https://www.svt.se/nyheter/lokalt/smaland/bond-barbie-bondDen 8 mars firar man att Barbie fyller 60 år med en utställning i Bergrummet på Skeppsholmen i Stockholm. Nybros egna James Bond – Gunnar Schäfer kommer att bidra med fyra stycken av sina egna James Bond-Barbiedockor till utställningen från sitt James Bond /Exhibition 007-museum i Nybro.

– Förr gjorde man ju bara en typ av Barbiedockor. Alla skulle ha smal midja och så vidare men nu så finns det dockor som sitter i rullstol eller har tappat en arm, till och med James Bond-dockor, säger Gunnar Schäfer.

Fyra olika dockor

Gunnar Schäfer har fyra stycken dockor som han lånar ut till utställningen i Bergrummet:

Dockorna James Bond och Barbie som inte har någon speciell anknytning till någon Bondfilm och som släpptes som dockor 2003. En Maud Adams-docka från Bondfilmen Octopussy och en Jane Seymour-docka från Bondfilmen Live and Let Die som båda släpptes som Barbiedockor 2010.

Kvar i sina originalförpackningar

– Det var min sons flickvän som tipsade teamet bakom Barbieutställningen som då hörde av sig till mig och frågade om de fick låna dockorna. Jag åker till Stockholm med dem i morgon, säger Gunnar Schäfer.

På frågan om James Bond-dockorna måste tas upp ur sin originalförpackning till utställningen svarar Gunnar:

– De måste nog det. Men de kommer att stå säkra i montrar på utställningen.

Publicerad:28 februari 2019 20.06

Uppdaterad:1 mars 2019 05.03

Från vänster: Maud Adams från Bondfilmen Octopussy, James Bond & Barbie och Jane Seymour-docka från Bondfilmen Live and Let Die. 

Foto: Gunnar Schäfer
På samma lista som Drottningsholms slott, Vasamuseet, Liseberg theculturetrip.com/europe/sweden/articles/20-must-visit-attractions-in-sweden/
Svävaren kördes av Pierce Brosnan när han spelade den klassiska superspionen James Bond i filmen Die another day år 2002.  LATEST NEWS:  Pierre Brosnan in Die Another Day 2002 with the original Hovercraft.
The subject is James Bond and Ian Fleming. Most of us know Ian Fleming as the writer of 14 books of James Bond but he had a far more exciting life worth illuminate. He worked at the British Secret Service MI6  of UK and he also participated in the Spanish civil war.
We have movable James Bond 007 Exhibition/Utställning.
Contact us here jamesbondexhibition@telia.com for moore information about your 007 Bond James exhibition in your country or city.
To see in James Bond 007 James Bond Museum!
Here are some examples of what we have to show in James Bond Exhibition 007museet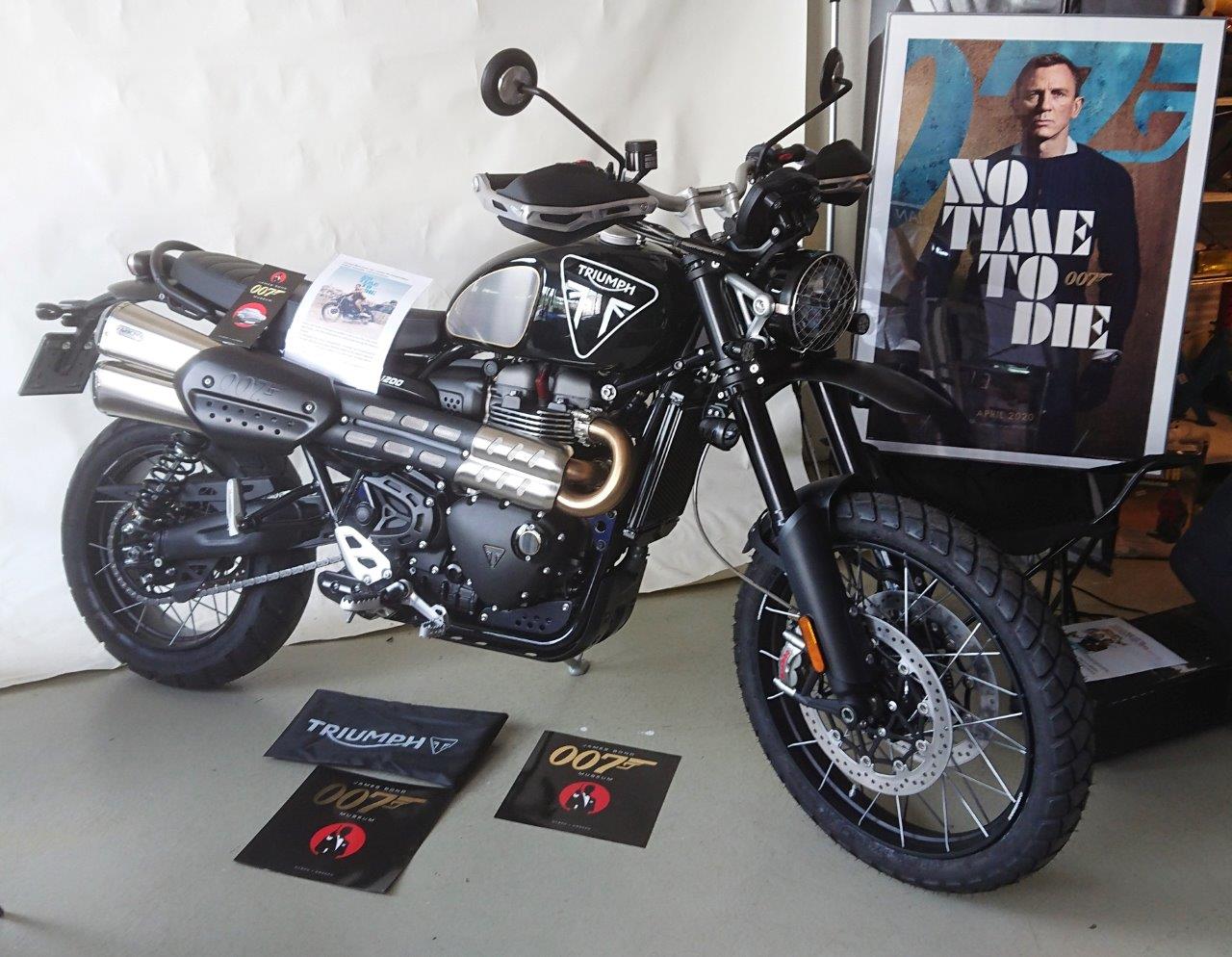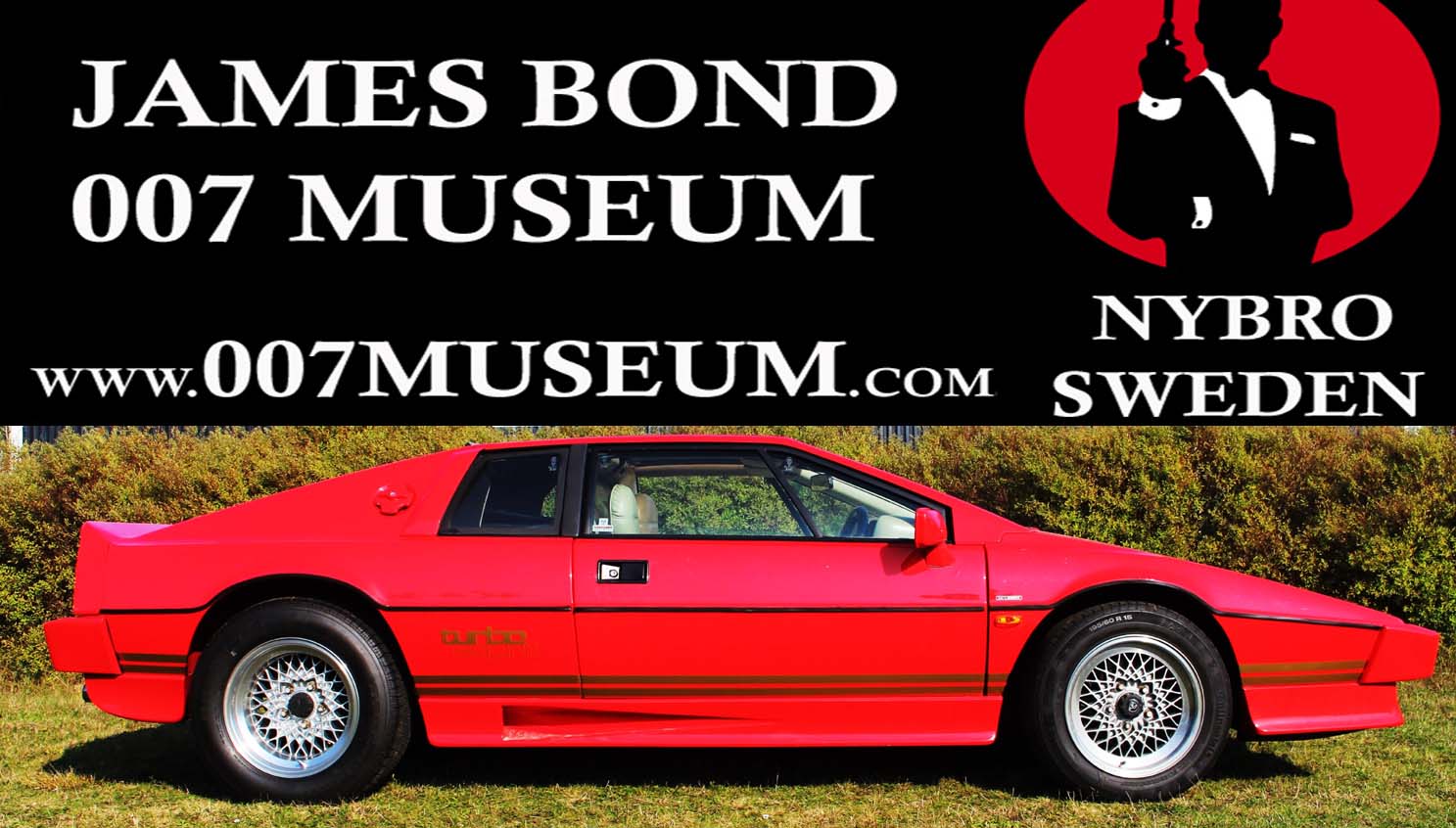 1.  Glastron GT 150 boat in "Live and Let Die" 1973 (Roger Moore as Bond).
2.  BMW Z3  "Goldeneye 1995" (Pierce Brosnan as Bond).
3.  BMW 1200 C motorcykel from "Tomorrow Never Dies" 1997 (Pierce Brosnan as Bond).
4.  Air plane Cessna 172 Skyhawk from "Goldeneye 1995" (Pierce Brosnan as Bond) and "Licence to Kill 1989" (Timothy Dalton as Bond).
5.  Aston Martin "Casino Royale" 2006, "Quantum of Solace" 2008 driving license plate "007 JB" (Daniel Craig as Bond).
6.  Gondol from Venice  "Moonraker 1979" (Roger Moore as Bond).
7.  Jaguar E-Type FHC from "Casino Royale 1967" (David Niven as Bond).
8.  Snowmobile  "Die Another Day 2002" (Pierce Brosnan as Bond).
9.  Izabella Scorupcos bikini from "Goldeneye" 1995. (Pierce Brosnan as Bond).
10. All Ian Flemings 14 books in first edition, first impression in a library.
11. Bond Cinema. Movie theater where visitors can watch movie .
12. Bond bathroom with 007 mosaik in floor.
13. An interactive play area with gamecube, playstation, nintendo pinball, Jack Vegas Machines,
Bilder från Utställningen:
http://www.007museum.com/gunnar_schafer.htm
http://www.007museum.com/to_do_and_see.htm
For moore information
https://www.thelocal.se/20070405/6918
http://www.007museum.com/radio_sweden_bond.htm
http://www.007museum.com/fan_phenomena.htm
from Claire Hines is a senior lecturer in film and television at Southampton Solent University in Southampton
Vi har tagit fram egna 007  Champagne och Dry Martiniglas  som är blästrade och graverade, se videon ovan. Ni kan själva prova på att gravera glas i 007museet.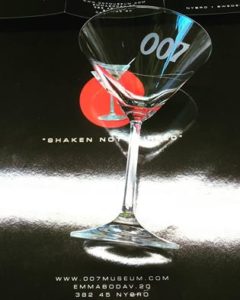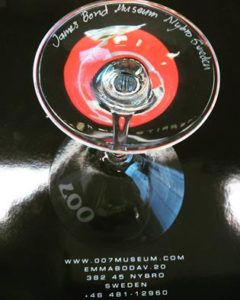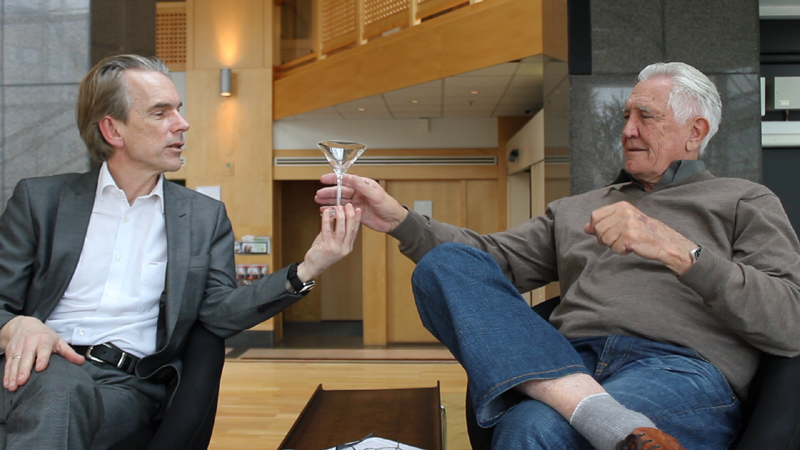 George Lazenby 007 design Dry Martini glass.